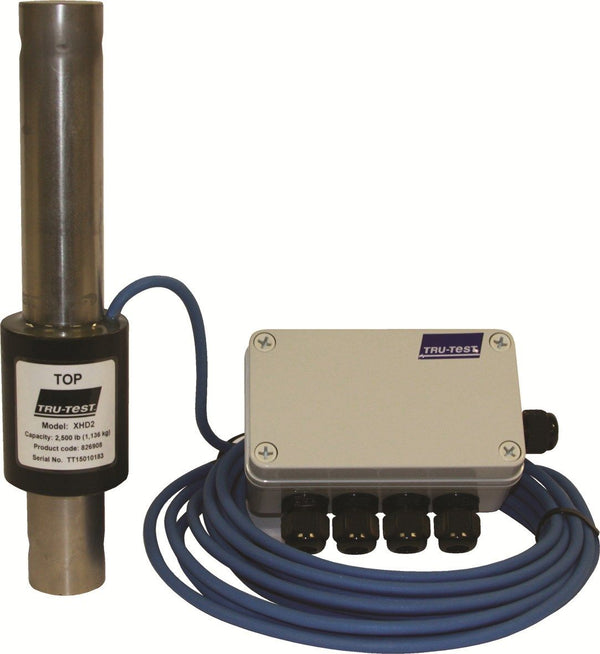 Product Description
The Tru-Test XHD2 Load Cell System is designed for permanent installations under manual or hydraulic squeeze chutes and multiple animal platform scales. The system comes complete with four single load cells, junction box, and lead-out cable (also known as Home Run Cable) which connects the junction box to the weigh scale indicator. 

4 individual heavy duty cells and a junction box each have a 2,500 lb capacity (10,000 lb. total system capacity.)
Each load cell is 11" in length, 1.5" in diameter, and weighs approximately 7 pounds. There will only be about 4 inches in height between the ground and the chute when these are installed under the chute. There is a bracket that comes with the load cells that can be welded or bolted to the chute.
The load cells need to be mounted in concrete to ensure safety and reliability. 
Plated tool steel construction protects against the corrosive agricultural environment. Individual load cells can be removed and replaced for ease of service
Bracket set (sold separately): Hydraulic squeeze chutes and a couple of manual chute models need the bracket. View a list of load bars and brackets needed with various squeeze chutes at the bottom of this page.
A scale indicator, sold separately, is needed to display the weight.
These load cells are the current model and replace the Tru-Test XHD10000 load cells.

Includes a 2-year warranty.
Technical Details
SKU 880 0000-277
Weight (lbs) 34.8
Shipping Details
Cost $125

Method FedEx Ground / UPS Ground
Need Help?
Have a question about Tru-Test scales? Not sure which model will work best?
Our weigh scale experts are here to help.
Contact an Expert