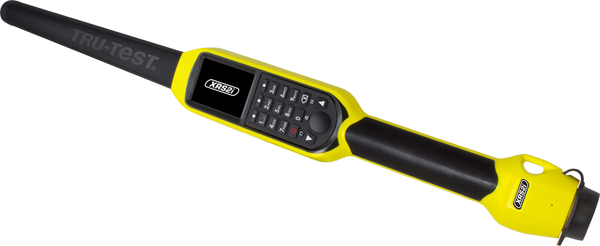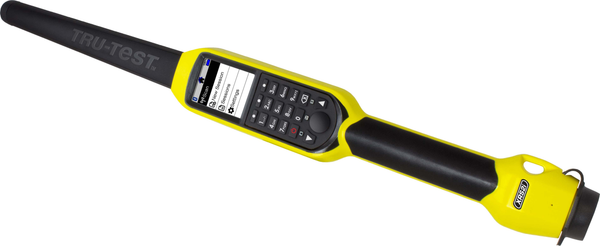 Product Description
Data collection is made easy with the Tru-Test XRS2i Electronic ID reader. Maximize individual animal performance and back up critical health, breeding and culling decisions by using the XRS2i Electronic Identification (EID) Stick Reader to view and capture animal information. The XRS2 features a large, highly readable screen and an alphanumeric keypad for capturing important information from the pasture or pens.

Bluetooth® wireless technology connects your reader to your weigh scale indicator and means you can easily share information using your smartphone.
Features:
Large sunlight viewable 2.7" color LCD screen makes it easy to read.
Alphanumeric keypad for flexible data entry.
Fast tag reads with feedback through vibrating handle.
Customizable alerts such as cull.
Add and edit session names to keep track of each session.
Capture animal information such as condition scores in up to 15 data fields.
Wirelessly connect with your weigh scale indicator using Bluetooth® wireless technology.
Easily download recorded information using your Windows computer or Apple iOS/Android smartphone.
Superior rechargeable internal battery performance.
Compatible with all Tru-Test EID weigh scale indicators.
Specifications:
Capture up to 15 pieces of customized information for each animal, such as breed, sex, DOB and condition score.
Read distance for HDX tags up to 12" and FDX tags up to 13". Reads all ISO HDX and FDX tags.
Bluetooth® Class 1 wireless technology to connect to Weigh Scale Indicators or other devices up to 300' away.
Battery time: up to 9.5 hours continuous read, up to 19 hours single read mode.
1 million scanned tag memory.
Balanced feel in the hand for comfortable use over long periods of time. Weighs only 1.6 lbs.
All Tru-Test products are proven for the tough agricultural environment, with an IP67 waterproof design.
Includes:
Hard Carrying Case
Power adaptor

USB cable

USB flash drive

Includes a 2-year warranty.
Technical Details
SKU 880 0004-656
Weight (lbs) 3.6
Shipping Details
Cost $25

Method FedEx Ground / UPS Ground
Need Help?
Have a question about Tru-Test scales? Not sure which model will work best?
Our weigh scale experts are here to help.
Contact an Expert